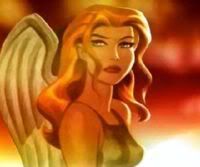 * Who is your most or least favorite superhero? Why?
My most favorite superhero is Hawkgirl or Shayera Hol (in the recent Justice League stories). She was initially sent to Earth to gain intelligence for her planet's military. She joined the Justice League under this pretense, and eventually formed a bond with them. Later on though she discovers that her planet had another plan in mind — to destroy earth. Shayera is surprised by the news, and turns to help the Justice League, who defeat her planet's military. Shayera was then branded a traitor, both by her planet's men and her Justice League colleagues. Because of this, Shayera takes it upon herself to resign from the league and soul-search. Eventually she does go back to join the league, but not without hesitation from some members.
I like Hawkgirl because she's a strong woman with principles. She could have blindly served her planet's military, but her humane and compassionate side shined through. She was also very mature by stepping away from the JL to find herself first. She had no ego to deal with. She was true to herself after realizing her mistakes, and then moved forward once she discovered herself. I love that about her.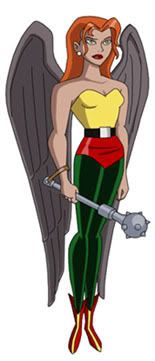 * What is your most or least favorite superhero movie? Why?
I really dislike the Superman movie with Brandon Routh. I didn't feel it was necessary to create a new Superman, and the story wasn't anything new. The twist at the end also was something I didn't enjoy much. And the stunts? Could've been better. In the end, it boils down to how it was highly remiss in storytelling. Poor plot.
* If you could have one superpower, what would you like it to be?
I would love to be a mind reader.

I enjoy learning about people, so having the power to know them this way would be great. I won't abuse that power though!
This is my entry to Em's Superhero contest! This contest is part of Shai's 52WoC activities. This round is about holding raffles and contests in your blog. I'll be holding mine soon — it'll be a contest related to birthdays as I'll be celebrating mine soon.
So stay tuned!