How would you like to see your name in Google font? How about a personalized search page? This one's pretty nifty!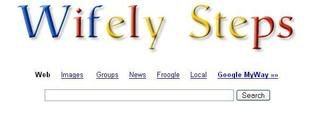 Go here: Google MyWay. Simply type in the text you want to see as the logo for your Google MyWay and click "Make It." Ta-da! Then click on the "Go" button for your Google MyWay page. Make it your homepage and start googling away.
Thanks to Leah for this fun link!