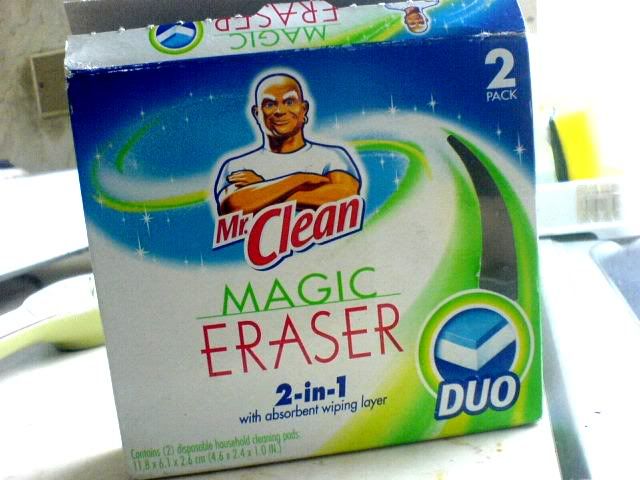 There were icky marks on my stove, on my kitchen counter and on my kitchen floor. No matter how much I would try wiping it off with soap and water, the stuff just wouldn't come off. Or if they would come off, it took a lot of huffing and puffing before they would disappear.
Last weekend, my Mom introduced me to Mr. Clean Magic Eraser. She's all praises for this product! She has high standards for cleaning so I gladly took her offer to try out one box.
The Mr. Clean Magic Eraser looks like your regular sponge, but this one's made of a special material that traps dirt and grime much more effectively than regular sponges. It has no chemicals that can harm surfaces you have to clean.
All you gotta do is wet the magic eraser with water, squeeze out the water and then scrub it gently on the area where you want the dirt removed. One swipe of the magic eraser and poof! The grime's gone! For tougher stains, I had to do several swipes — but still significantly less swipes than if I had used an everyday sponge.
My stove was really hard to clean before. I was scared of ruining the metal because I found it really hard to get the grime off. The Magic Eraser really did help. My stove's pretty clean now.
After a really intense cleaning though, the pad breaks down. That's reasonable. I gave my kitchen an intense cleaning and man, it didn't look I could reuse the pad. If it's only slightly worn though, all you have to do is wash it and you can use it next time.
I highly recommend this product! There are two sad things though: (1) There are only 2 sponges in a box; and (2) It's not yet available in the Philippines. So to those of you who are in the U.S., you're darn lucky! I really hope the product gets sold here. It costs about $3/box in the States.
Mr. Clean Magic Eraser makes cleaning so much easier and stress-free. If I were you, I'd stock up on it!
——-
If you want to read more reviews, check this link out.
——-
NOTE as of Nov. 6, '05: My Mom just saw this being sold at True Value. A 4-pack costs P275. FYI!