Meet my new best friend.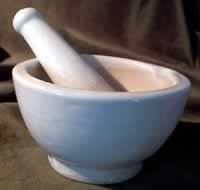 Heehee. Coming from my pasta dilemma a couple of days ago, Karen gave me a tip that crushed garlic may work better than chopped garlic because crushed garlic imparts "a better flavored-infused sauce." During my grocery trip last weekend, I bought a stone mortar and pestle for our little kitchen. What can I say but oooh yeah!!! I had a blast making "dikdik" the garlic. Hmmm. That just sounded too kolehiyala. Sort of like "I'll make tusok-tusok the fishballs." I digress!
I enjoyed crushing the garlic a lot. When H wanted to make adobo, he went, "Wifey, can you slice the onions and garlic?" I jumped up from the couch and started crushing the garlic with my new friend. I wanted to crush the onion too but figured it wasn't a good idea. Haha, just kidding. The sound of the pestle hitting the mortar reminded me of my childhood. I'd be in the sala watching cartoons and I'd hear our yaya doing that mortar and pestle thing in the kitchen. Memories.
By the way, I made my first Pomodoro sauce yesterday. It was too sour for my taste but I used basil (my now favorite herb) and of course, what else but crushed garlic! Let me just say that basil and garlic are my favorite ingredients ever.
I have a cookbook that has the recipe for pesto. It says that you can make pesto using your mortar and pestle. One can always use the blender of course. Since I don't have a blender (will I ever escape this topic!?) and I'm enjoying myself immensely with that mortar and pestle, I think I'll try making pesto the old-fashioned way this weekend. Let's see how that goes.
And if you're a nitwit like me, the bowl is called the mortar and the cylindrical thing is the pestle. I didn't know that till today. I always called it "mortarandpestle" or "mortaenpestle". They worked as one unit, and I never really cared which was which. Now I do!